A Message from the Principal.
Welcome to Toronto eSchool! We are an innovative leader providing comprehensive academic services and enabling academic success in the local and international communities. Toronto eSchool is both an online high school and a tutoring centre offering various innovative academic programs, English language programs and test preparation programs. Our mission is to provide Intensive Academic Support: Giving Your Child the Best Advantage. We believe every child can succeed, given the proper tools. At Toronto eSchool, we provide a high quality education, using the latest and most effective technology delivered by our experienced and supportive teachers. We don't just give our students support with the academic content of their courses, we take a look at how your child is learning and find ways to both maximize and make his/her learning more efficient to maximize results. Even if your child is already earning high marks, Toronto eSchool can give him/her that extra edge. We offer many state-of-the-art programs to facilitate student success in our modern 4.2 acre campus. We have various tutoring and Maximize Your Success programs to provide individualized and customized academic support. Various types of English language classes and test preparation classes are also available for students with English language needs. Your child's success is our top priority! Welcome to 21st century learning: learning that employs that latest technology, is flexible, cutting-edge, individualized and cultivates life-long success! I look forward to working with you and your child to help you fulfill your ambitions. Natalka Vetere, BMus, BEd, OCT
Creator and developer of The Secret to High Marks™ and the Maximize Your Success™ programs, Natalka has joined the Toronto eSchool team as the new Principal. With over 20 years experience as an educator, Natalka's employment has included the Toronto Catholic District School Board, the York Catholic District School Board (including as a Special Education Department Head), the University of Western Ontario and the City of Toronto (Children's Program Co-ordinator). Natalka's areas of expertise include maximizing learning outcomes for all student populations and the use of technology as a tool to improve learning. She actively shares her knowledge with colleagues, parents and students via seminars and workshops and is sought out internationally as an educational consultant. She holds certifications in Applied Behaviour Analysis (ABA), Crisis Prevention and Intervention (CPI), and Learning Strategist/Assistive Technologist (in progress).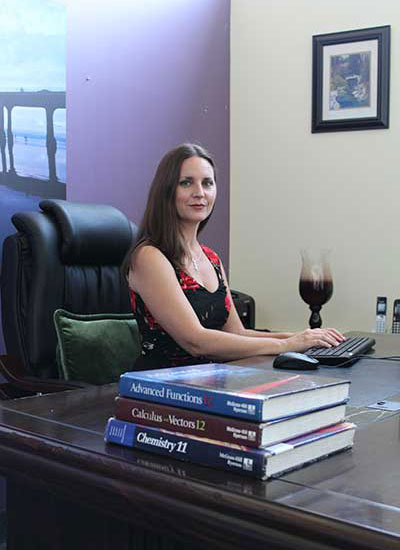 A Message from the Founding Principal.
Welcome to Toronto Eschool. The courses and programs you will encounter here are the result of much work by some very creative and energetic people. They represent the collective experience and insights of seasoned educators who have spent much time thinking about learning and the best ways to engage young people in this new digital age. We sincerely hope you enjoy your online experiences with us and we look forward to meeting you and learning with you. Demosthenes Aliferis, MA., B.Ed.
I started my teaching career teaching Mathematics and Philosophy at the University of Toronto Schools, a school designed by the University of Toronto Faculty of Education for students of high academic ability. Over the years I spent many summers working with the Ontario Institute for Studies in Education as Principal of the Continuing Education program in Mathematics. The last few years were spent as Director of Admissions at UTS where my job was to oversee the entire Admission Process and interview the many bright and energetic young people competing for positions at this very unique school. I have also enjoyed my brief, but very special times working in such remarkable Toronto schools as the Etobicoke School for the Arts, Branksome Hall, and R.H. King Academy. And, as Director and Owner of High Park Academy I had the opportunity to work with yet another group of exciting and brilliant teachers and students.